Volunteering
So you want to volunteer with Grant County 4-H...
In order to volunteer with us you must complete our 4-H Volunteer Screening!
Who must Complete the Volunteer Screening Process?
Any individual who works in close, ongoing interaction with youth
Any adult OR youth with authority to independently plan and conduct 4-H educational experiences for youth with other adults present or in a public setting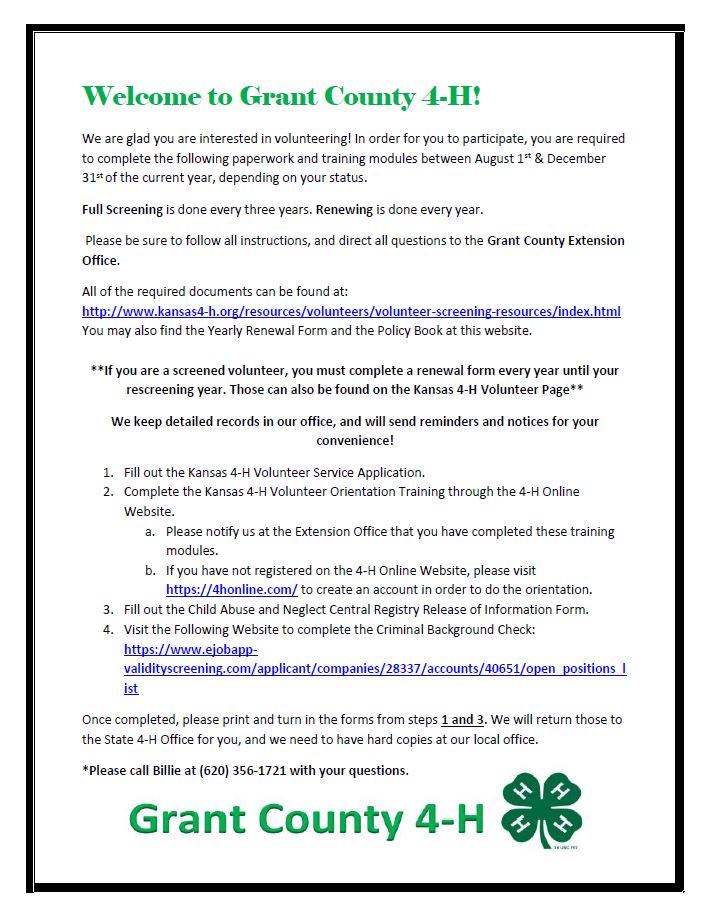 Click HERE to get started on the Volunteer Screening Process, or use the links below to access the appropriate documents and websites!
Kansas 4-H Volunteer Service Application
Child Abuse and Neglect Central Registration Release of Information Form (DCF)
A "How-To" for the Online training modules on 4-HOnline:
Online Volunteer Orientation Instructional Full Page Handout
Need to complete your yearly renewal? Use the following link to access the form. Please return this form to the Extension Office upon completion:
Kansas 4-H Volunteer Service Renewal Form
Remember: Call your local Extension Office with any questions. We're glad you're here, and we're happy to answer your questions!